5G Smart Country
The aim of the 5G Smart Country project is to work intelligently and sustainably in the areas of economy, nature and climate protection, education, mobility and health. The potentials of 5G mobile communications in rural areas are to be made visible. Science-based applications from the fields of agriculture and forestry are to be tested under real conditions. To this end, the Smart Forestry subproject will test intelligent forest sensor technology with 5G connectivity, while the Smart Farming subproject will focus on increasing the efficiency of productive, transparent and sustainable agriculture with social acceptance through data-based applications.
Research Group 5G Smart Forestry
The innovation potential of 5G mobile use is to be demonstrated in practical applications in rural areas, thereby significantly improving the conditions for 5G use. Via intelligent forest sensor technology and 5G connectivity, the forest undergoes a digital transformation that optimizes sustainable management, informs citizens and continuously monitors the forest to help forest managers cope with the consequences of climate change.
The forest is central to rural citizens as an economic factor, educational and recreational resource, and habitat for native flora and fauna. Forest dieback and climate change threaten the forest as a "green lung". The ability to react immediately to changes with the right measures plays a more decisive role than ever in today's world for the existence and protection of the forest. A digital twin of the forest, based on data collection via 5G technology in combination with an interoperable data platform as well as targeted data analyses, provides more detailed knowledge about the vitality of the forest. This methodology is being tested in three focus areas.
Our research focus
Forest sensing & early warning system
Under the slogan "To each tree its IP" the forest of the future is being created. A large number of trees will be equipped with vitality sensors for relevant parameters such as soil moisture, ozone content, air quality and pest infestation. Based on algorithmic analyses of the sensor data, location-based online early warning systems will be implemented to provide timely warning of drought damage or pest infestation (e.g. bark beetle infestation). Forest managers or foresters can thus react promptly and specifically to disturbance variables. The professional long-term recording of forest data results in an improved inventory and allows the optimized cultivation strategy to changing environmental conditions (e.g. climate effects, pests, vitality) via improved simulation and forecasting models. As a result, it is not only the forest itself that benefits from the level of detail of information achieved through better protection. Early warning systems on forest fires or pest infestations directly support private and state forest managers alike in monitoring and protecting forests. In emergencies, the additional data analyses lead to delay-free as well as targeted reactions of the responsible actors (e.g. band danger messages to the public and fire department).
Information system forest and field
For example, which forest roads are closed due to forestry work (felling, planting) and why is this work being carried out? These "digital stories" are told via digital information boards, via a website, apps, or augmented reality (AR) at various locations in the forest. This newly acquired information can then be included in existing forest trails. Through the integration of the forest diary app of the Future Forest Foundation, the information can be used and experienced as teaching material for about 4000 pupils right into the classroom. But also forest visitors experience the forest as an element communicating with them digitally, via AR, apps and information boards, so that a deeper understanding of the forest ecosystem is conveyed.
Networked timber harvesting
In the value chain between timber harvesting and sawmilling, the established timber harvester (harvester) as the central device of fully mechanized harvesting will continue to gain in importance in the future and will have to act in a more networked manner with the surrounding process steps. While currently harvesting volumes and timber lengths are planned statically, networked timber harvesting envisages enabling external intervention during the harvesting process and online timber measurement in the harvester, e.g. to adjust the timber cut by stakeholders (e.g. sawmills, logisticians, dealers) on the harvesting process (harvester). For this purpose, a procedure of a tree trunk virtually created during harvesting is developed, which is used to trigger the real-time marketing chain. Already during harvesting, a comparison is made for immediate adjustments between the recorded wood quality at harvest and the required wood material in production. This makes the economic marketing and sales process in timber harvesting more efficient and flexible for forest managers and downstream wood processing.
Real-time transmission and high data rates for measurement and quality parameter collection during harvesting as well as delay-free data exchange between harvesting companies/forest managers and sawmills (customers) and vice versa are crucial. This use case is flanked by an environmental warning system that informs forest visitors, logisticians and forest workers about work processes taking place in the forest and warns them of acute hazards. Safety areas can be marked out virtually, e.g. via information (vibrations, optical signals or AR illusions) and specific information about forest work can be provided on information boards at the forest access.
This is intended to create greater acceptance and a corresponding public understanding of the necessary care and harvesting work in the forest.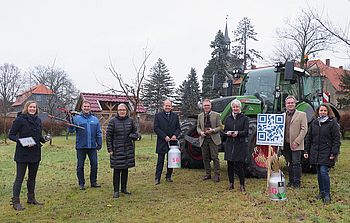 Picture of the official handover of the funding decision. (Photo: Research Group)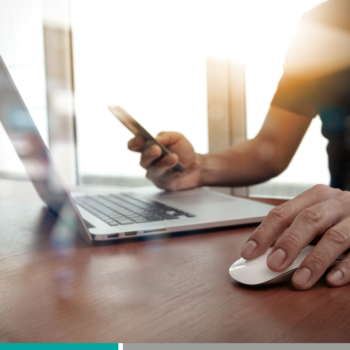 Contact
Ostfalia University of Applied Sciences
- University of Applied Sciences Braunschweig/Wolfenbüttel
Faculty of Computer Science
Salzdahlumer Straße 46/48
Office: Am Exer 10d
38302 Wolfenbüttel
PROJECT RESPONSIBLE:
Prof. Dr. Ina Schiering
E-mail: i.schieringostfaliade
PROJECT COORDINATOR:
Tanja Heuer
E-mail: ta.heuerostfaliade